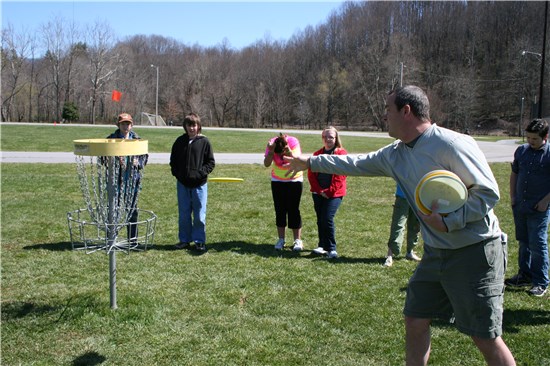 The Waynesville Disc Golf Course is an 18-hole course that stretches between Recreation Park and Vance Street Park. The park is not lighted but does contain restrooms. It does not cost anything to play but please be aware that Recreation Park and Vance Street Park are multi-use parks so please be respectful of other users.
Hole #1 begins beside the park lot at Vance Street Park in front of the Waynesville Recreation Center.
Please click here for an overall course layout. For an individual hole layout please choose the following:
Contact & Address
Phone: 828.456.2030
Fax: 828.456.2034
Address: Vance Street, Waynesville, NC, 28786
Operating Hours
Specific Rules & Guidelines for the Waynesville Disc Golf Course
With an 18-hole course that winds throughout the park, disc golf is one of the most popular activities available at the Waynesville Recreation Park. Played like golf but instead you use a flying disc. One point is counted each time the disc is thrown and when a penalty is incurred. The object is to acquire the lowest score.
Tee Throws: Tee throws must be completed within or behind the designated tee area. Do not throw until the players in front of you are out of range.
Lie: The spot where the previous throw has landed. You should mark with a mini disc or turn over the thrown disc directly towards the hole or dog leg.
Throwing Order: After teeing off, the player whose disc is the farthest from the hole always throws first. The player with the least amount of throws on the previous hole is the first to tee off on the next hole.
Dog Leg: A dog leg is one or more designated trees or poles in the fairway that must be passed as indicated by arrows. Until the dog leg is passed, the closest foot to the dog leg must be on the lie when the disc is released.
Completion of Hole: A disc that comes to rest in the disc pole hole basket or chains constituted successful completion of that hole.
Unplayable Lie: Any disc that comes to rest above the ground is considered an unplayable lie.
The disc must be thrown from the lie on the ground directly underneath the unplayable lie. Relocate to avoid damage to the vegetation.
Out of Bounds: If out of bounds is visible between the disc and out of bounds line. A throw that lands out of bounds must be played from a point 3 feet in bounds from where the disc went out of bounds. Permanent water hazards and public roads are always out of bounds.
Course Courtesy: Please pick up trash and help new players play by the rules. Call for more information the Waynesville Recreation Center at 828.456.2030 for more information.
Rules & Guidelines for all Parks
The Town of Waynesville is not responsible for lost or stolen articles.
Park users must be aware that participation in any physical activity or program could have inherent and unforeseen risks that may cause injury, harm or death.
Anyone taking part in a program or activity sponsored by the Waynesville Parks and Recreation Department must assume the risks associated with such participation and be responsible for taking proper precautions.
No one under the age of 18 years may smoke on Waynesville Parks and Recreation Department property.NO alcoholic beverages, drugs, fire arms or other weapons, or gambling are allowed on Waynesville Parks and Recreation Department property.
Vandalism, defacing of property, loitering or use of profanity will not be tolerated. Restitution will be required for any misuse.
Any expression of physical or verbal abuse, or acts of intimidation, harassment, or other threatening behavior directed towards any staff member or park user will result in suspension and/or legal action.
Using the Waynesville Parks and Recreation Department property for personal gain or profit is prohibited unless given permission by the Department.
All animals outside of the Pepsi Dog Park must be on a leash.
Animal owners must clean up after their animal.
Failure to adhere to these rules will result in ejection or suspension from the park.
Directions to the Waynesville Disc Golf Course from Asheville, NC
Take I-40 West and take Exit 27
Follow Highway 23/74 West to Exit 102 and turn right on to Russ Avenue (276 South)
Go under bridge to second red light and at light turn left on to Howell Mill Road
Go 1/2 mile and turn right on to Vance Street and see the Center on the left
See parking lot at softball field - hole #1 begins at end of parking lot
Directions to the Waynesville Disc Golf Course from Sylva, NC
Follow 23/74 East to Exit 102A
Turn right on to Russ Avenue  (276 South) and go to second red light
Turn left on to Howell Mill Road and go 1/2 mile and turn right on Vance Street
See the Center on the left
See parking lot at softball field - hole #1 begins at end of parking lot