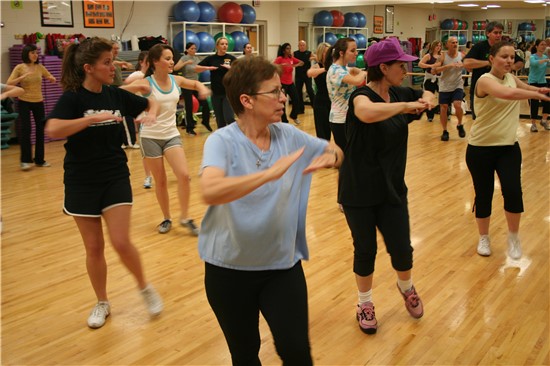 Stretch & Walk: Total body stretch & strengthen for tone and balance
Stretch & Walk Advanced: Twice as much total body stretch & strengthen for tone and balance
Deep Water Aerobics: Traveling pool length with lots of cardio movement
Silver Sneakers Yoga: Seated and standing poses and stretches
Aqua Motion: Cardio constant movement
Zumba Gold: Modified Zumba with lower intensity
Spin Class: Intense training with short recovery periods
Zumba: Latin American dance movement, fast paced
Aqua Tabata Aerobics: Cardio constant movement
Silver Sneakers Circuit: Standing cardio using bands, balls weights and chair
Silver Sneakers Splash: Limited range of motion, low impact aerobics
Zumba Basic: Faster than gold Zumba
Silver Sneakers Classic: Limited motion chair exercises, weights, balls, and bands
Laura's Interval Training: Fast aerobic exercise
Judo: The Olympic Sport
Somatics : Simple, safe exercises to improve posture, mobility and brain function, making life easier and more enjoyable!
**Power Yoga Flow: A vigorous class where movements are linked together
with breath. The class focuses on standing postures then balance postures and finish with postures laying on a mat. Bring a mat and washcloth.
East Coast Swing: East Coast Swing (ECS) is a form of social partner dancing. It is danced to fast paced swing music including Rock and Roll. The dance was created by the dance studios including Arthur Murray Studios in the 1940s. It is a fun and relaxed dance which gives a good cardio workout. Starting date is February 13th at 6:45 at the Waynesville Recreational Center . The class will run for 6 consecutive weeks . Each class is one hour in duration. The price is $72 per person for the complete 6 week course. Fees must be paid on the first night of the session. Come a few minutes early on the 13th of February to register for the course. If you have any questions, please contact Herb Roach at 828-550- 3170 or Shelia Mort at 828-316-1968.
Plate by Zumba™ - an 8-week program focuses on the science behind nutrition and healthy eating. Learn how to create lasting, life-changing results and how to replace bad habits with healthy ones. Topics include: nutrition basics, choosing the right foods, reading nutrition labels, metabolism, food addictions and more! 
The program meets Mondays 2:00-3:00 from Feb 6 – March 27 in the aerobics room; taught by Patti Burke - a licensed Plate by ZumbaTM Coach.