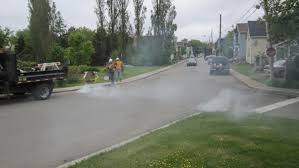 The Town of Waynesville Sewer Department has contracted with McGill Associates to complete sewer system testing utilizing smoke testing.   This testing will be done October 22 and October 23 throughout Waynesville.   Map of Areas where smoke testing will occur.
Smoke testing is the process of injecting by blower artificially produced non-harmful smoke into a pipeline segment to observe where smoke emerges, indicating defects or problem areas in the pipeline. A sewer in good condition is observed by smoke exiting from manhole lids and house vents. If a sewer has defects, smoke will find the break, cross connection, or other problem and escape from this area.
Smoke may emerge in your home or business. It is unlikely, but possible that some people will observe smoke in their homes due to dry traps, breaks in the house line, or other internal plumbing problems. If this happens, you may wish to seek the assistance of a licensed plumber as there may be an issue if these conditions are observed.
The Town will have information available on social media and website as the date for the testing nears.  The homes that are in close proximity to the various testing sites will be contacted by the Town before testing begins.  The majority of the testing sites are outside of residential areas on the main trunk lines of the system.  
Should you have any questions, please contact the Public Services Department at 828-456-3706.