Where's Wayne Wednesdays
Can you find Wayne somewhere in Waynesville or in the surrounding area?    Each Wednesday morning beginning at 8:00 a.m. on the Town's Facebook page, Wayne's picture will be posted with a clever hint as to his whereabouts.  The first person to correctly identify where Wayne is, will win a prize pack from the Town.  
RULES FOR WHERE'S WAYNE WEDNESDAY:
1.  Individuals can only win once every six (6) months.  Town of Waynesville employees and their immediate family are not eligible to win, but we encourage you to guess.  
2.  The Town of Waynesville staff will determine the winner for the day based on the detail provided and the time of the submission - For example: Wayne is in the park versus Wayne is in Recreation Park on the swing set.  The more detail provided, the better.  
3.  Individuals who are contacted that they have won the weekly prize must pick it up at the Municipal Building within one week to avoid any confusion with the next week's winner.
4.  Winners will be asked to have their picture made to post on the Town of Waynesville's Facebook page as part of the Where's Wayne Wednesdays. 
5.  Have fun with this - we do!  If you are a winner, when you pick up your prize, let us know a new site to take Wayne - you can't win for 6 months, but you can help someone else have a shot.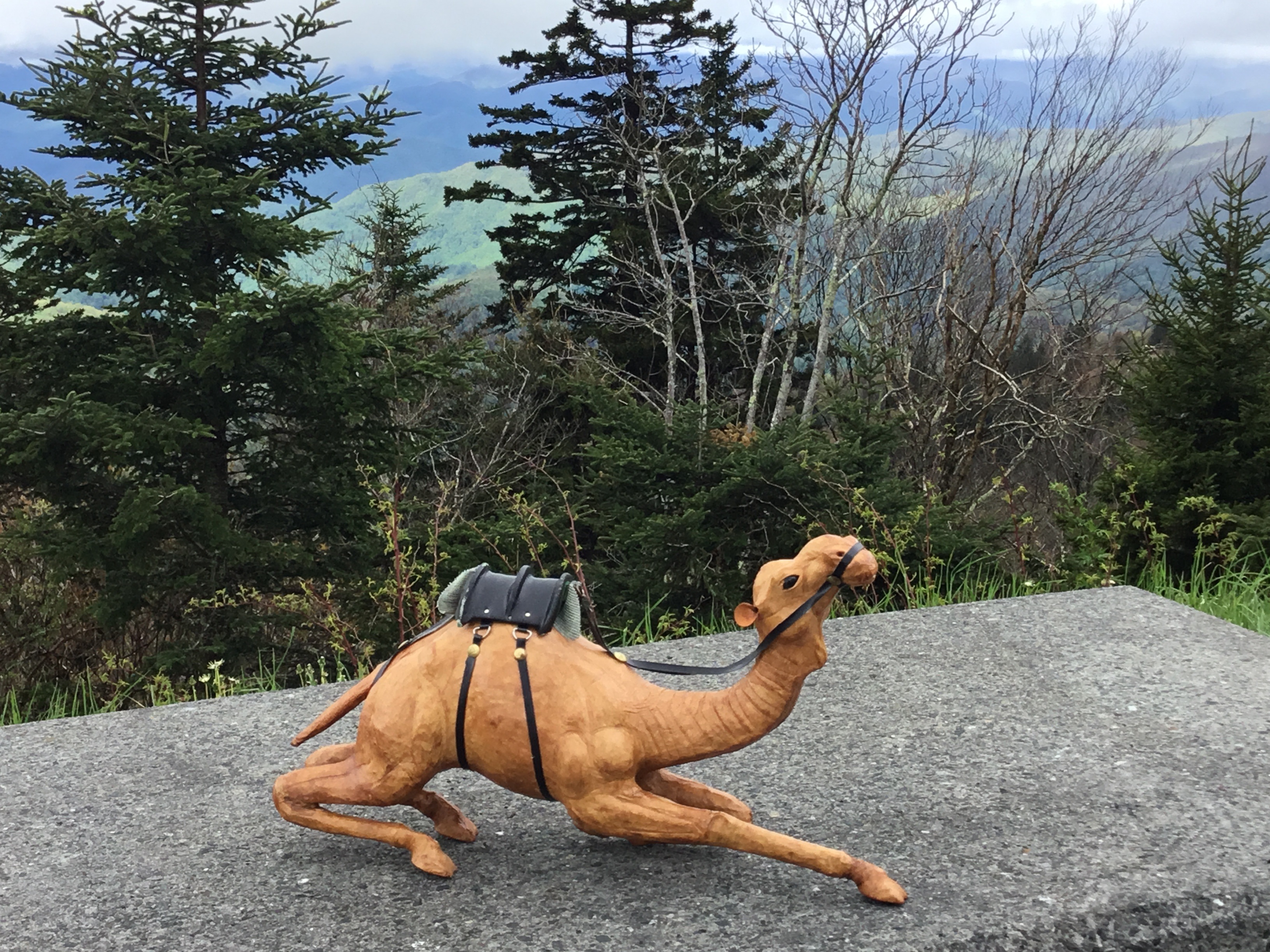 History of Where's Wayne Wednesdays
In the fall of 2014, then Intern Andrew Bowen was cleaning up the safe and found Wayne.  This was just after our migration to a new IT vendor and he was looking for ways to get people interested in our website and social media platforms.   The idea was to primarily familiarize people with town services and locations, and then it was branched out to other locations in town.   There was, at the time, an iconic commercial related to camels and "hump day" and so, it just seemed appropriate to have Where's Wayne Wednesdays (WWW). 
While there is some debate as to where Wayne actually came from – a citizen says she gave it to former Town Manager, Lee Galloway as a gag gift at Christmas, or as what may be the case, Wayne was found with other items received from Folkmoot countries as gifts to the town.  No matter his origins, we know that Wayne is a wooden, Moroccan leather covered camel.
The WWW was something of a novelty in its beginnings and did not receive much traffic and the WWW postings were sporadic at best, with multiple individuals trying to complete the posts.  Not until Eddie Ward, Town Clerk, took over WWW in 2017 did the postings become a weekly feature and made Wayne into a superstar!   Eddie was working on obtaining her Master Municipal Clerk certification (something that only one other clerk in Haywood County's history has achieved) and had to have several hours of community outreach and engagement as one qualification.   Sharing the information about the town, its services and subsequently, tying it to the historical Throwback Thursdays, made him a hit and helped to meet her requirement.
However, the feedback has been tremendous and made him a local celebrity.  When the postings hit at 8:00 a.m. on Wednesday mornings, by 8:15 there are over 300 views and usually several guesses as to where he is.   The average number of views is 1500+ each week and individuals as far as Texas and Florida comment about Wayne. 
Tying WWW to Throwback Thursdays 
Eddie used to take minutes for the Historic Preservation Commission (HPC) and knew Alex McKay from his participation and his love of Waynesville's history.  The two have worked together combining the WWW and Throwback Thursdays (TBT) and the popularity of both posts has grown.   Alex has been helping Eddie get some pictures and information on various locations and the historical background on the location.   Like chocolate and peanut butter – they (WWW and TBT) go great together!
Winners of WWW get a prize pack from the town including a t-shirt that says "I Found Wayne" and other items from the town and information on businesses in and around Waynesville.
Assistant Town Manager Amie Owens stated "since Eddie took the initiative to make Wayne a priority, he has become the unofficial mascot for the town and we are so proud of her efforts in showcasing the Town and, with Alex, its history.  We are thrilled to share Wayne as the newest social media darling."